"We have had lots of movie professionals visiting our set and all of them were amazed with what we achieved with 3D printing"
SUMMARY
A cluster of 8 Zortrax 3D printers have been used to print props and decorations for Dark Cell, a pilot for a French science fiction series featuring Juliette Tresanini.
3D printers allowed the producers to meet tight deadlines for shooting the pilot and fit into limited budget.
Jean-Michele Tari, a producer of Dark Cell, claimed 3D printers will one day bridge the visual quality gap between Hollywood blockbusters and independent, low-budget projects.
INTRODUCTION
Dark Cell is a pilot for a new science fiction series set in an orbital prison. It features Juliette Tresanini, known from a French television drama The Future Belongs to Us, and is produced by Jean-Michel Tari, an ex-Ubisoft designer and computer graphics expert previously involved in making triple A video games such as Splinter Cell or Ghost Recon. To get the most out of a limited budget, Jean-Michel relied on combining real, 3D printed decorations with CGI (Computer Generated Imagery) to build his futuristic prison. A vast majority of props used in Dark Cell have been 3D printed in just two months on 8 Zortrax 3D printers.
"We have had lots of movie professionals visiting our set and all of them were amazed with what we achieved with 3D printing. Of course, most of them have already implemented 3D printers in their workflows to some extent. But in Dark Cell we employed them on an unprecedented scale. Nearly everything you will see in the pilot is 3D printed.", says Adrien Rouet, the CEO and founder of Esquisse 3D, a company that was responsible for the 3D printing part of the project.
Building Reusable Movie Set
Back in 2019, when Jean-Michel conceived the idea for Dark Cell, he asked around for quotes to build props and decorations with traditional techniques out of plywood. All of them amounted to hundreds of thousands of euros which was the typical asking price for such things in the movie industry. Jean-Michel, with his extensive background in tech companies, started to think about optimizing the way things worked in this field.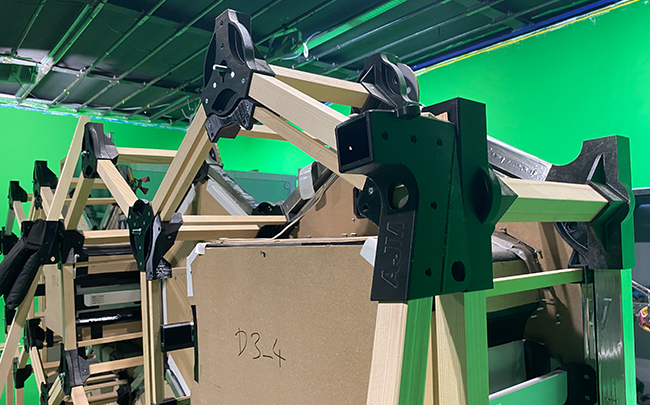 He found that wooden scaffoldings to which decorations were attached were made on order, used for just a couple of shooting days and then ended up in a landfill. So, Jean-Michel thought about making reconfigurable, reusable scaffoldings. To make that work, he needed lots of 3D printed joints. Wooden beams could be joined through such joints to build any desired shapes and geometries. This alone shaved off a significant portion of the initial price. But Jean-Michel wanted to take it a few steps further. After using 3D printers to build reusable scaffoldings, he wanted to print nearly everything that was supposed to be shown in the movie.
Designing Props for 3D Printers
"Jean-Michel had lots of experience in video game industry, so, from the ground up, he designed all Dark Cell props in Fusion 360, a professional CAD software made by Autodesk. This way the models could be used in CGI right from the get-go, but they also could be easily exported to .stl files and 3D printed", says Adrien.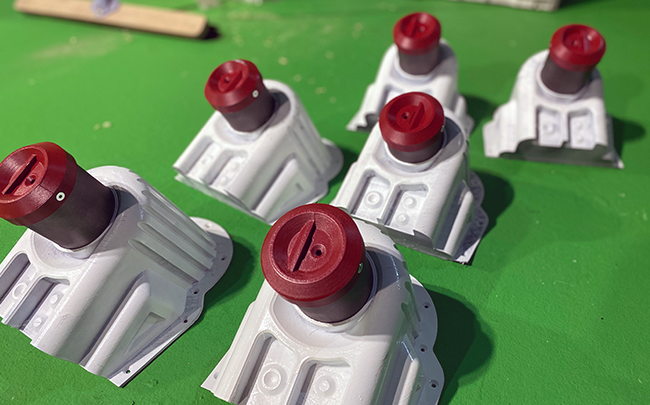 According to him, this approach is really key in creative projects where 3D printing is to be involved at some point. Adrien's team at Esquisse 3D could start running the 3D printers right when the models arrived, with no time necessary for making adjustments and design optimization.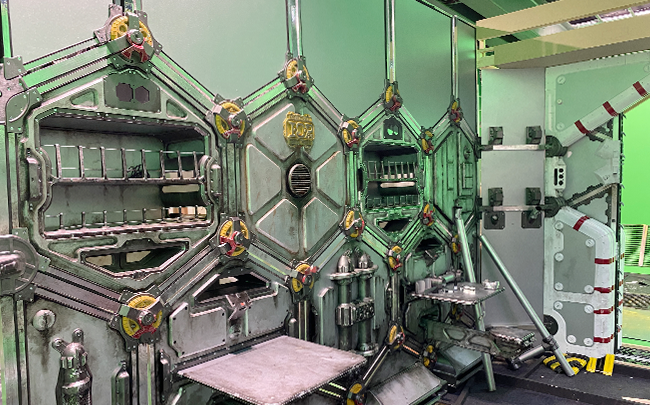 The main idea behind using physical, 3D printed props instead of relying entirely on CGI was to help the actors act more naturally and feel their roles better. "When you bet solely on CGI, your actors have to act in a green box. They don't see their surroundings so all interactions with the environment seem a bit off. Jean-Michel wanted to avoid that and place the actors in a real orbital prison cell they could touch and see.", explains Adrien.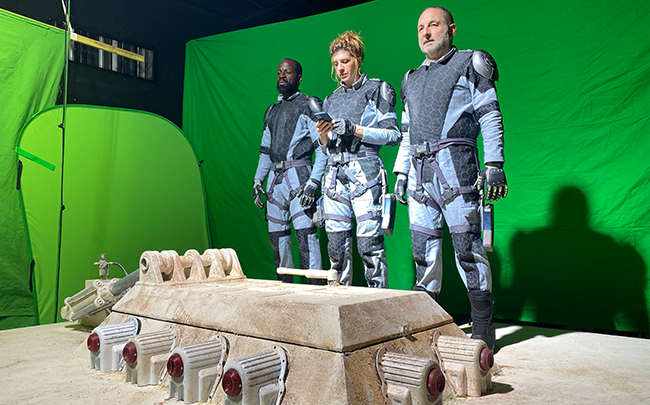 "The only thing Jean-Michel was missing was the number of available 3D printers. He had just two machines which were open architectures that had a hard time printing filaments like Z-ABS or Z-PETG which were necessary for props that had to withstand impacts or endure mechanical stress. That's the problem we jumped in to solve", adds Adrien.
Scaling Up to Meet the Deadline
Roughly two months before the shooting of Dark Cell was scheduled to start, Jean-Michel realized that he couldn't make the decorations on time working with just two 3D printers. So, he hired Adrien and his Esquisse 3D to fabricate the missing props.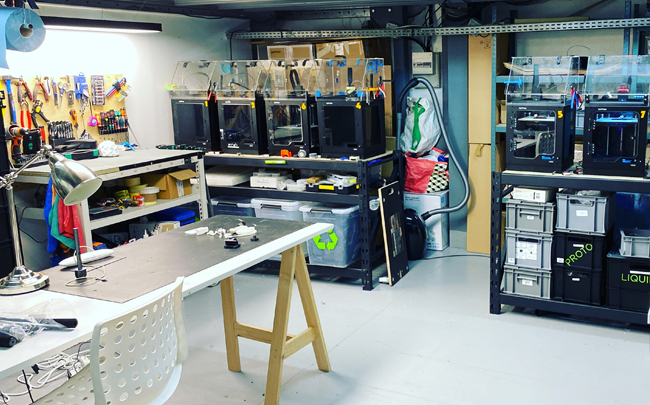 "And that was a lot of 3D printing. We had all 8 of our Zortrax 3D printers running 24/7 for two months. We could do it because the printers were so reliable. We could be certain we would make all the models till the deadline. And this deadline couldn't be moved as the studio, the actors, and the camera crew were all booked for a set date", says Adrien.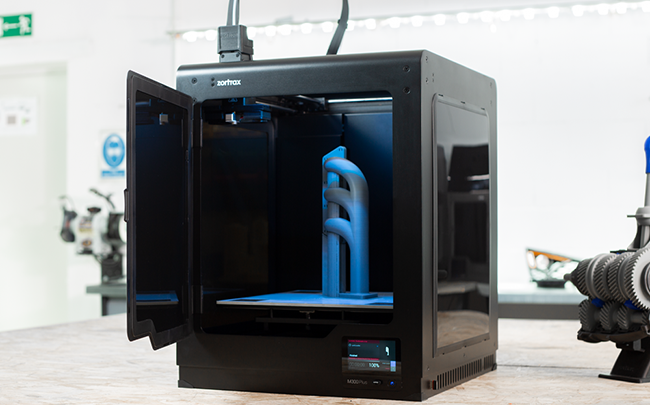 Quality of prints on Zortrax machines also saved lots of post-processing time. According to Adrien, his team in most cases did not need to sand the models. All that was necessary was painting to make the models look like metal parts. Limited sanding was necessary only in the models like laser weapons and other props that were meant to be used in close-up shots.
3D Printers as the Missing Link in Cinema
Jean-Michel, in the interview he gave to Primate 3D said that 3D printers were the missing link between computer graphics and real-life props in movie industry. He went on to say that quality and cost-efficiency of the 3D printing technology will eventually close the visual quality gap between Hollywood blockbusters and independent, low-budget projects.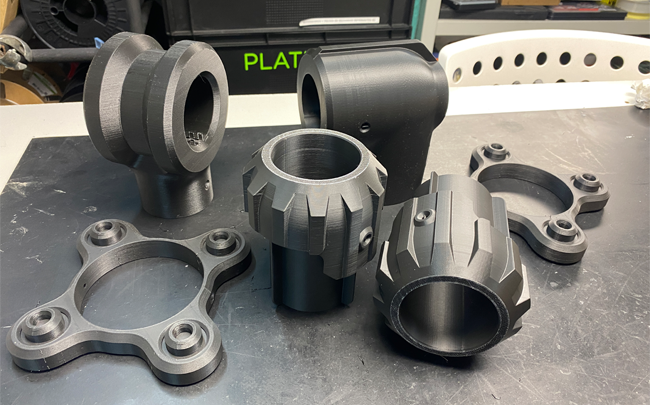 "Working on Dark Cell was a 3D printing dream job for me. Still, this was something we did mostly for fun. Usually, we use the 3D printers for prototyping work and design in architecture. But I think Jean-Michel is on to something with using this technology in movie making. We already have lots of interest from various movie makers. Perhaps one day this will become our primary, steady source of income. I believe this will become a very real opportunity really soon", says Adrien.
Dark Cell is just one of many moviemaking projects where 3D printers helped optimize costs without sacrificing creative freedom. Read how Zortrax 3D printers have been used in the making of Star Wars blockbusters like Rouge One or The Last Jedi.
Dream 3D can supply you with the full Zortrax desktop range of 3D Printers, materials and accessories. Please find the Zortrax printer page here: Zortrax 3D Printers | Dream 3D
Please find the Zortrax filaments page here: Zortrax Filaments | Dream 3D
If you have any other queries or are considering purchasing a Zortrax 3D Printer or any other, please do feel free to ask us any queries or requesta bespoke discount (info@dream3d.co.uk / 07789266163)
Thanks for reading 🙂
https://www.dream3d.co.uk/wp-content/uploads/2021/04/darkcell.png
289
906
Mark Henton
https://www.dream3d.co.uk/wp-content/uploads/2017/04/Dream-3D-Website-Logo.png
Mark Henton
2021-11-16 15:53:58
2021-11-16 15:54:00
How 3D Printing Cuts Costs in Moviemaking - Dark Cell business case