IDEX technology ensured a fast-tracked, profitable process for this low volume batch production.
German 3D printing platform Replique and BASF Forward AM's material experts are working together to create parts for home appliances manufacturer Miele, using a food safe 3D printing process for parts in contact with consumable goods.
With 3D printed parts muscling their way into all corners of your home appliances, how do we ensure a reliable food safe 3D printing process? In Germany, Replique and BASF Forward AM have the technique down to a T for their client Miele. After Replique receives the details in its digital platform, BASF Forward AM gets to work manufacturing the products with the help of the IDEX technology in their small farm of BCN3D Epsilon W27 printers. Not only are they saving significant costs on their production process, but their final products are more accurate with a smaller initial investment required.

The digital set-up at Replique
Replique is the first fully encrypted 3D printing platform that connects you to a global decentralized network of AM professionals. This means OEMs have the chance to provide spare parts, anywhere, anytime, securely, and efficiently, without the need for a physical warehouse.
With only three steps lying between you and on-demand production, Replique takes the customer through the entire procedure, starting with identifying and qualifying, finding the best materials, integrating Replique at every stage, and encrypting.
The result is printed parts required by companies across all industries, such as transport, agriculture, construction, and consumer goods. Without this service, they face traditional production which is expensive for the low quantities of parts they require.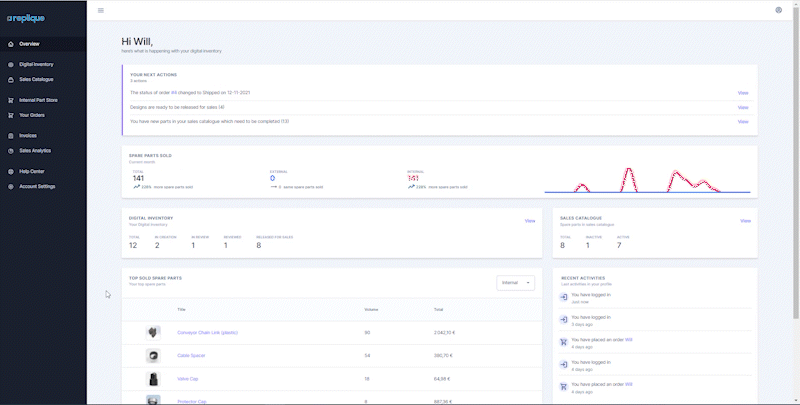 BASF Forward AM spearheads food safe 3D printing processes
For client Miele, the full integration of Replique's online platform into its online shop of domestic appliances and commercial equipment is what allowed Miele to make the shift into distributed manufacturing. BASF Forward AM, which is part of Replique's network of experts was enlisted in this case for its expertise and know-how of all things 3D printing. With a focus on 3D printing materials ranging from filaments to resins and powders, BASF Forward AM also offers an array of services like design, simulation, and post-processing.
3D printing was chosen as the best solution for Miele as the low volume batch production of printed accessories could be produced cost-efficiently and with quick entry into the market. With IDEX technology doubling its production, the significant reduction in printing time and costs makes it an attractive feature for customers. This success with such a big name exemplifies the potential for other manufacturers.
"IDEX technology means that we can use duplication mode to print in half the time, which saves us money and means we stay competitive in the market."- María Murga, AM Application Engineer at Replique.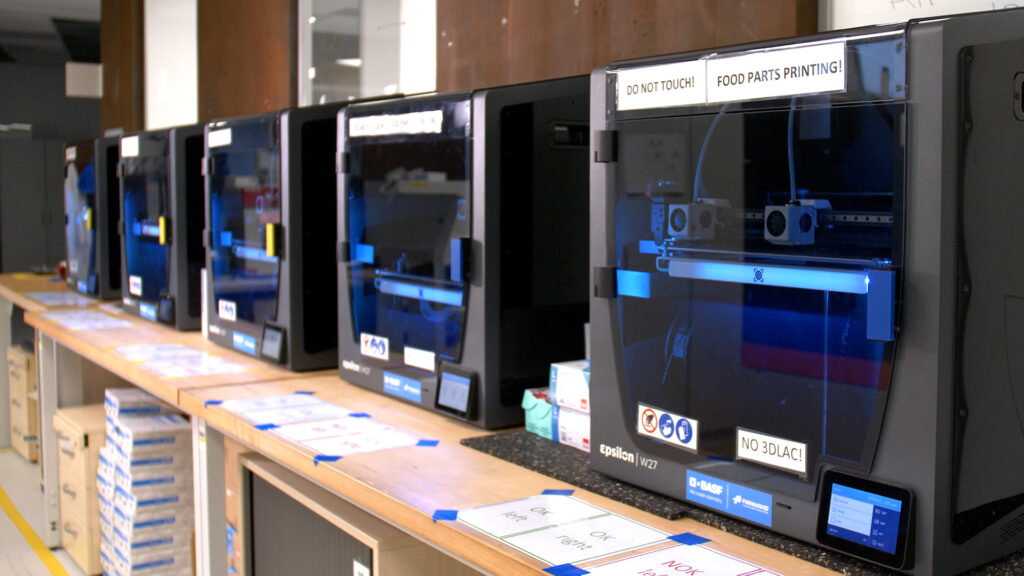 The parts on the online market
From a range of parts integrated into Miele's shop by Replique and BASF Forward AM, we investigated three innovative components designed to make your domestic chores run smoother. All parts are printed with BASF Forward AM's filament Ultrafuse® PET, for its ease of use and suitability for food contact.
BASF Forward AM manufactures a vacuum top called the Borehole Cleaning Aid. Originally posted on Thingiverse, Miele realized its potential when it reached the incredible popularity of around 60.000 downloads by users. When drilling holes, this part sticks to the wall independently and takes away any mess made by the process, making it the easiest way for precision and cleanliness.

Another vacuum top is also produced, this time a separator in a pointed shape covered in small holes to protect small parts while vacuuming. This part is ideal for cleaning the inside of your car.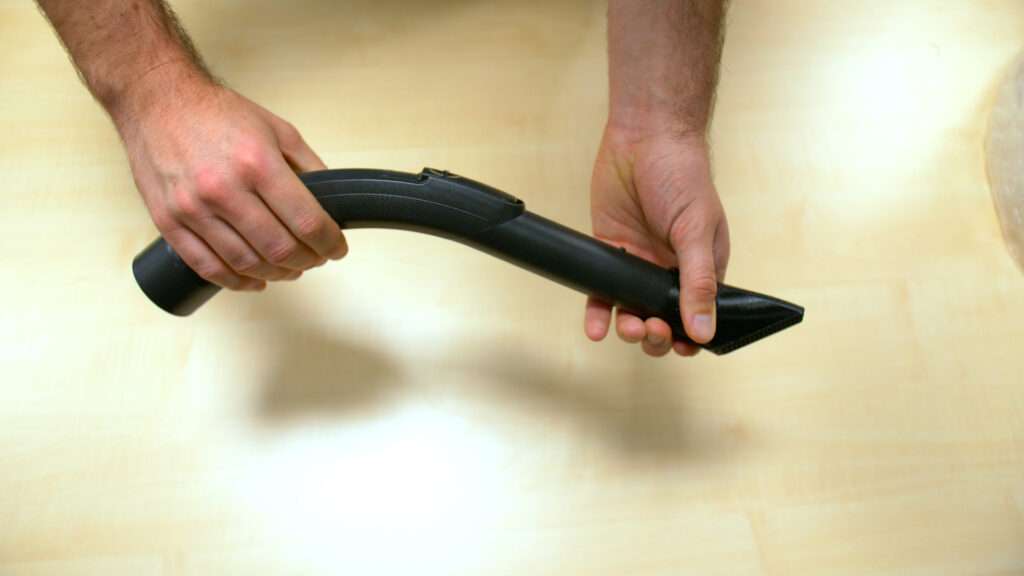 Last but certainly not least, is the coffee clip: a product to keep your coffee beans fresh and dose them when needed. The most important consideration for the manufacture of this part is that it comes into contact with the coffee beans themselves. This means it is vitally important for it to be food-safe and non-toxic. This involves carrying out precise procedures in order to abide by strict quality control guidelines and safety requirements.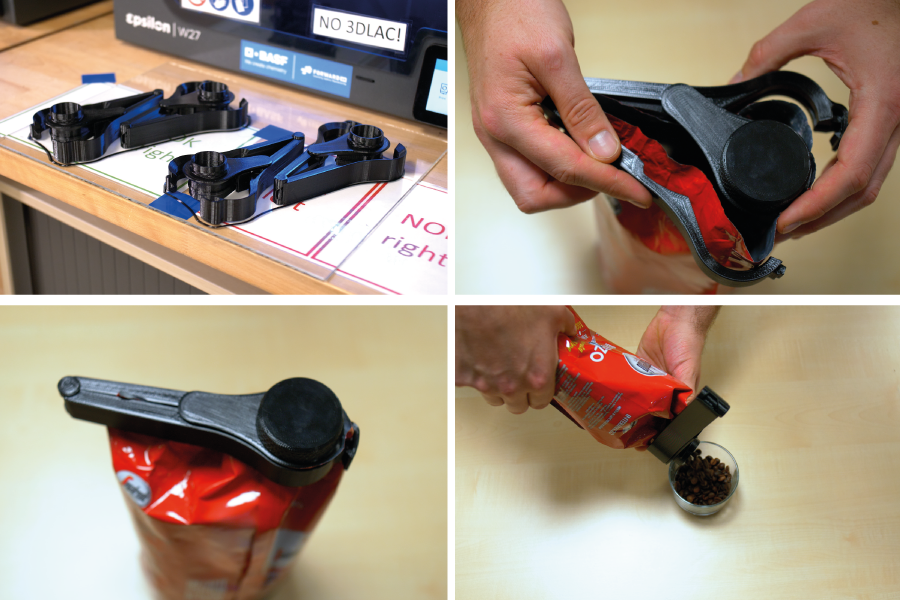 "The production of parts for food contact must meet the highest safety requirements to ensure that no chemicals migrate from the material into the food to protect human health. For this not only the material has to be food compliant but also the manufacturing process." – Marius Haefele, Operations Manager AM Services and Solutions at BASF Forward AM.
The combination of accessibility and quality assurance by Replique with the expertise from BASF Forward AM serves as the perfect example for companies interested in dipping their toes into the world of food safe 3D printing, and for those looking for methods to streamline their production lines. It looks like now is the time to spice up your kitchen with some 3D-printed food safe accessories!
Thank you for reading this brilliant study by BCN3D
Dream 3D is proud to be offering the full 3D Printer range by BCN
We also sell a large range of BCN parts and accessories: Accessories, Upgrades & Spare Parts – Dream 3D
And a large range of Raise 3D filaments: BCN3D Filaments – Dream 3D
If you have an queries regarding this article or if you would like to request a bespoke quote, please contact us at info@dream3d.co.uk / 07789266163
Thanks for reading 🙂
https://www.dream3d.co.uk/wp-content/uploads/2022/06/rEPLIQUEbasf-BCN.jpg
576
1024
Dream 3D
https://www.dream3d.co.uk/wp-content/uploads/2017/04/Dream-3D-Website-Logo.png
Dream 3D
2022-06-29 19:55:34
2022-09-30 09:45:29
Replique and BASF Forward AM's food safe 3D printing process for Miele